Description
A poignant and funny theatrical event exploring clothing and the memories they trigger.
Cast Photos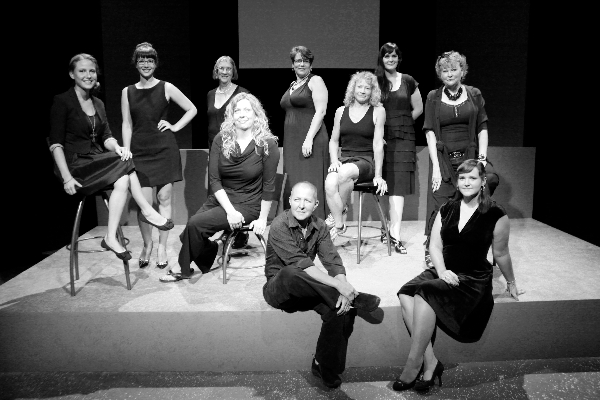 Brittany Restrepo, Janice Jenson, Jessie Marker, Colleen Baum, Brenda Van der Wiel, Josie Fife, Ellesse Hargreaves, Annette Wright, Lu Prickett, Penny Pendleton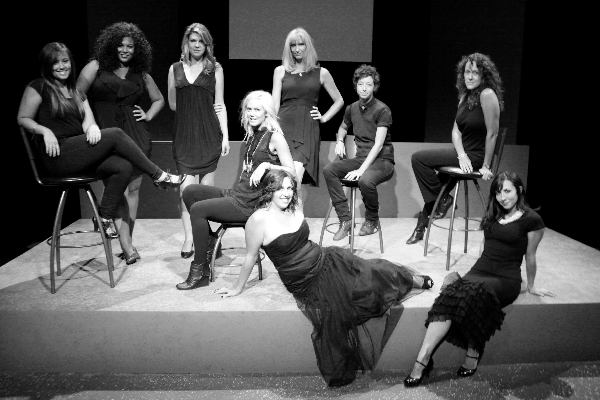 Shelby Andersen, Alicia Washington, Cassandra Stokes-Wylie, Polly Nevins, Cynthia Fleming, Sasha Solomonov, Tracie Merrill, Shelley Carpenter, Heidi Klein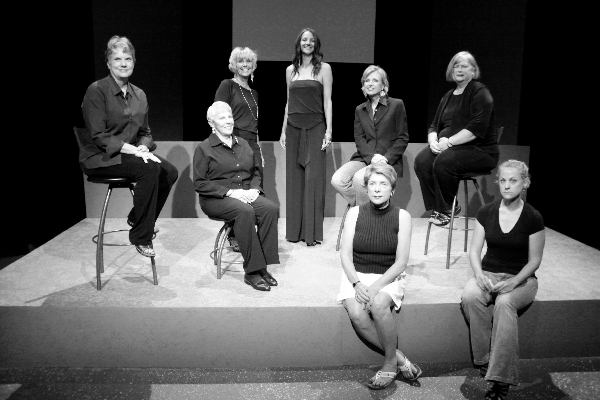 Marian Jacobsen, Sally Milbank, Sheryl Ivey, Erin Jepperson, Deborah Kotter Barkley, Mimi Charles, Beano Solomon, Anna Brower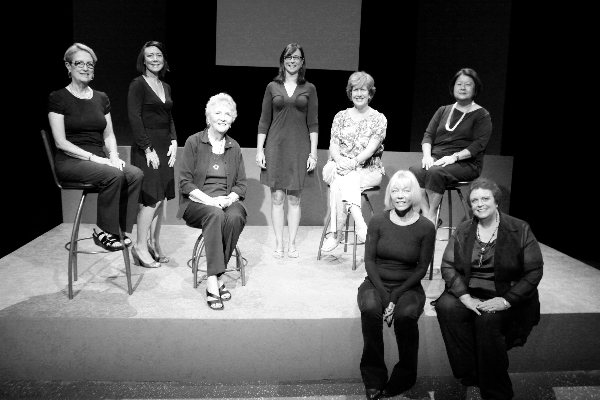 Karen Shepherd, Sheila Yorkin, Pat Jarvis, Lisa Grant, Jill Remington Love, Karen Okabe, Donna Weinholtz, Laura Reilly
Nathalie Chanut, Babs De Lay, Kylie Conway, Amy Damico, Sheryl Allen, Nancy Borgenicht, Kathleen Cahill, Valerie Kittel
Mary Dickson, Jennifer Price-Wallin, Geralyn Dreyfous, Tiffany Provost, Marcia Price, Heather Sneddon, Andrea Alcabes, Colleen Sorensen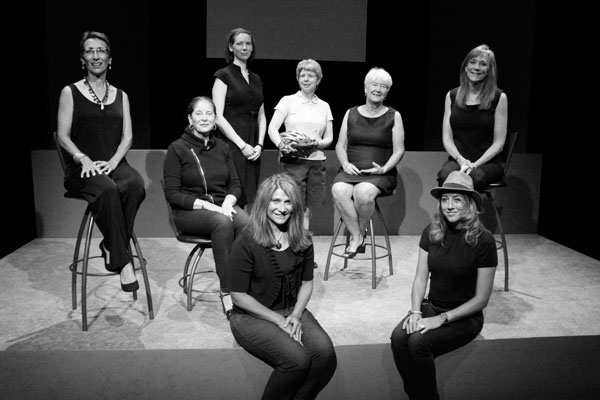 Suzanne Larson, Barbara Polich, Ja'Naye Payne, Victoria Bourns, Bryan Eldredge, Judy Cullen, Marsha Merrill, Jennifer Napier-Pearce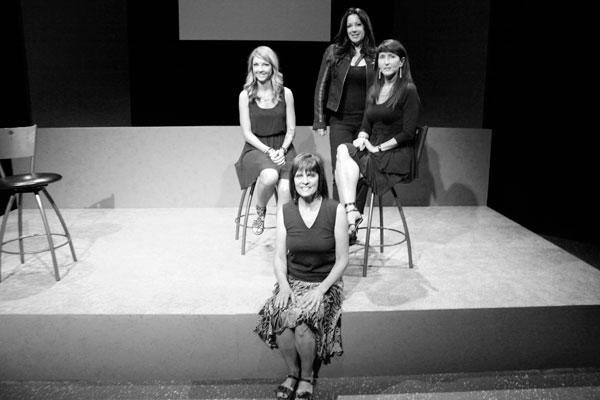 Randi Petersen, Gina Barberi, Teresa Martinez, Elaine Jarvik
Jackie Medina, Polly U. Nevins, Jocelyn Kearl, Elaine Clark
Press Release
PRESS CONTACT: CYNTHIA FLEMING |801.363.7522|
SALT LAKE ACTING COMPANY IS PROUD TO PRESENT A STAGED READING OF LOVE, LOSS, AND WHAT I WORE BY NORA & DELIA EPHRON AS A FUNDRAISER
"It's not about fashion; it is about what clothes really are to us, those moments when we are constantly trying to find our identity through them".
- Nora Ephron
Salt Lake Acting Company is delighted to announce our celebratory fundraiser, a staged reading of LOVE, LOSS, AND WHAT I WORE by Nora and Delia Ephron. The production is based on the memoir by Illene Beckerman and poignantly illuminates women, clothing and the memories that are indelibly connected to what we wear.
Made famous in its off-Broadway run, LOVE, LOSS explores five women and how their wardrobes relate to pivotal moments in their lives. The late Nora Ephron, celebrated as a successful screenwriter, director and essayist is most proud of this particular contribution to American Theatre. The show won a special Drama Desk Award and was nominated for two Drama League awards in 2010. Nora Ephron, in an interview in Huffington Post said "Everybody associated their clothing with an important event in their life – their divorce, their marriage, falling in love, their prom nights. It's just so powerful for women."
SLAC is honored to announce that over 80 women have volunteered, each a unique luminary of this community, to perform in rotating casts of five throughout the three week run of the theatre's fundraiser. This powerful group of women make diverse and significant contributions to the city we live in- making their mark within the arts, education, politics and business.
LOVE, LOSS, AND WHAT I WORE has inspired an important partnership between SLAC and the Junior League of Salt Lake City. We are thrilled to support and advocate their program 'Women Helping Women.' Through this program, Junior League volunteers collect, prepare, and distribute donated professional women's clothing to women entering the workforce and who are in transition towards self-sufficiency. Clients are referred to the project by government and social service agencies. Women Helping Women has served nearly 12,000 women since 1996. Throughout the run of LOVE, LOSS, AND WHAT I WORE, SLAC will happily accept donations of seasonally appropriate professional women's clothing for this program in our lobby. Women Helping Women exemplifies the core of this production - clothes don't make us who we are, but often, they tell our story.
The cast includes:
Adrianne Moore- Theatre Director, Dialect Coach, Professor at Utah State University
Alicia Washington- Actor, Barista, Front of House, Salt Lake Acting Company
Amy Gallivan Damico- Mother, Civic Volunteer
Andrea Alcabes- Executive Director of the I.J. and Jeanne Wangner JCC
Anna E. Brower- Development Director, ACLU Utah
Anne Morgan-Jespersen- Painter
Annette Wright- Actor- Salt Lake Acting Company Front of House
Babs De Lay- Broker- Urban Utah Homes and Estates Chair
Barbara Polich- Lawyer
Beano Solomon- Chair of the Capital Campaign for the new Utah Pride Center
Brenda Van der Wiel- Costume Designer
Brittany Restrepo- Electrician & Light Board Operator
Bryan Eldredge- Program Manager, Business Scholars, David Eccles School of Business, University of Utah
Cassandra Stokes-Wylie- Director of Development, Salt Lake Acting Company, Actor
Colleen Baum- Actor, Volunteer Coordinator at Intermountain Therapy Animals
Colleen Mellor-President of Strategic Employee Benefit Services, Altius, Mother, Grandmother
Colleen Sorensen-Firm Administrator, Sorensen Vance
Deborah Kotter Barkley- Manager, Chalk Garden Co-op
Cynthia Fleming- Co-Executive Producer, Salt Lake Acting Company
Donna Weinholtz- Wife, Mother, Politically Charged Citizen
Elaine Clark- Producer RadioWest, KUER 90.1
Elaine Jarvik- Playwright & Freelance Journalist
Ellesse D. Hargreaves- Actor, Acct. Coordinator with Utah Symphony | Opera, Salt Lake Acting Company
Erin Jepperson- Engineering Technician/ Special Inspector, Utah Testing and Engineers, Front of House, Salt Lake Acting Company
Geralyn Dreyfous- Founder, Utah Film Center
Gina Barberi- Host X96 (96.3 FM), Radio From Hell
Heather Sneddon- Attorney
Heidi Klein- Actor, Communication & Audience Development, Salt Lake Acting Co.
Helen Langan- Senior Advisor to Salt Lake City Mayor Ralph Becker
Hope Woodside- Television News Anchor KSTU, FOX 13 NEWS
Jackie Medina- Art Director/Production Manager, Mills Publishing, Inc.
Jan Hawker- Accountant, Salt Lake Acting Company
Ja'Naye Payne- Manager of Business Support, KUER 90.1
Janice Jenson- Stage Manager
Jayne Luke- Actor
Jennifer Napier Pearce- Journalist, KCPW 88.3/105.3
Jennifer Price-Wallin- Mother, Community Philanthropist
Jessie Marker- Theatrical Wardrobe
Jill Remington Love- Salt Lake City Council member, District 5
Jill Sheinberg- Mediator
Joann Price- SLC District Supervisor, School Support & The Extended Learning Program
Jocelyn Kearl- Co-Owner, Third Sun Productions
Josie Fife-Scenic Artist
Judy Cullen- Communications Director, Gastronomy Inc
Karen Shepherd- Former Editor, network magazine, Former Member of Congress
Karen Suzuki Okabe- Interim Deputy Director of the Salt Lake City Public Library
Kathleen Cahill- Writer
Kylie Conway- Broadcast Journalist/ ABC 4 Evening Anchor
Laura Reilly- Manager, Salt Lake CAP Weatherization Assistance Program
Lisa M. Grant- Librarian
Lisa Sewell- Executive Director, Utah Arts Festival
Lu Prickett- Carpenter & Lighting Technician for Salt Lake Acting Company
Marcia Price- Patron of the Arts
Marian B. Jacobsen- Small Business Owner
Marsha Merrill- Co-Owner & Director of Operations, Stoneground Restaurant & The Garage
Mary Dickson- Creative Director, KUED
Mimi Charles- Public relations, Public Engagement
Nancy Borgenicht- Creator & Co-Writer, Saturdays Voyeur
Nathalie Chanut- Pilates Instructor
Pat Jarvis-Equal Rights Activist
Penny Pendleton- Stage Manager
Polly Nevins- Director of Communication, Salt Lake Acting Company
Pauline U. Nevins-Mother, Grandmother, Former Teacher
Randi Petersen- Owner, The Park Café
Rep. Rebecca Chavez-Houck- Utah House of Representatives, District 24
Sally T. Milbank-Housewife
Sasha Solomonov- Grants Coordinator, Salt Lake Acting Company
Sheila Rappazzo Yorkin- Mother, Director of Marketing and Communications for EDCUtah, Shelby Andersen- Musical Theatre Major, Weber State
Shelley Carpenter- Development Officer, KCPW, Student
Sheryl Allen- Former Member of Utah House of Representatives, Former Executive Director of Davis Education Foundation
Sheryl E. Ivey- Director of Volunteer Services, Salt lake County
Sister Dottie S. Dixon- Accidental Activist
Suzanne Larson- Artist & Executive Director of the Doctorow Family Foundation
Tamrika Khvtisiashvili- Owner, Blue Plate Diner, Artist, Wanderer
Teri Orr- Executive Director/Curator/Alchemist, Park City Performing Arts Foundation
Theresa Martinez- Professor of Sociology, University of Utah
Tiffanie Provost- Owner, AxisT
Tracie Merrill- Intermountain Health Care, Box Office, Salt Lake Acting Company, Actor
Tracy Callahan- Head of the Acting and Directing Program at Weber State University, Freelance Director
Valerie Kittel- Owner/Founder, Conscious Speaking
Victoria Panella Bourns- Program Director, Salt Lake County Zoo, Arts and Parks
SLAC NOTES
Tickets are $25 for SLAC season subscribers and $30 for single ticket buyers.
For tickets call 801-363-SLAC, visit www.saltlakeactingcompany.org,
or in person at 168 West 500 North, Salt Lake City, Utah 84103
FACT SHEET
SLAC PRODUCTION LOVE LOSS AND WHAT I WORE
PLAYWRIGHT Nora Ephron & Delia Ephron
DIRECTOR Colleen Baum
SET DESIGN Keven Myhre
LIGHTING DESIGN James M. Craig
SOUND DESIGN Josh Martin
PRODUCTION STAGE MANAGER Josh Martin, Lu Prickett, Brittany Restrepo
DATES Opens: September 13, 2012
Closes: September 30, 2012
TIMES Wed – Sat- 7:30 p.m.
Sun- 1:00 p.m. & 6:00 p.m.
SLAC is a not-for-profit 501(c) in 1970 and is dedicated to producing, commissioning and developing new works and to supporting a community of professional artists. SLAC has been nationally recognized by the Shubert Foundation, the National Endowment for the Arts, the Pew Charitable Trusts and the Edgerton Foundation, among others. SLAC operates under a STP Actors Equity Association contract. SLAC is a Constituent Member of Theatre Communications Group, a national organization for non-profit professional regional theatres, and the National New Play Network.