March 03, 2015
Last week our inaugural Salt Lake Acting Company Playwrights' Lab brought together 30 of the most creative, generous, thoughtful, and adventurous people to dedicate their talents to the development of two new scripts – HARBUR GATE by Kathleen Cahill and BOY ABOUT TEN by Jon Tuttle.
This Lab was born out of a conversation between Cynthia (SLAC Executive Producer) and David Kranes last April. David is an artistic gem in this community. For 14 years he ran the Sundance Playwrights Lab and he generously brought his wealth of play development knowledge and his network of brilliant likeminded artists to spend a week at SLAC.
Shannon Musgrave and Janice Jenson, SLAC Associate Producers, were each in a room throughout the week. Janice recaps what it was like to spend a week working on BOY ABOUT TEN by Jon Tuttle:
Day 1

Morning: After a brief tour of SLAC, we read-through the first 20 pages in front the entire Playwrights Lab, then broke off into separate rehearsals for a full-read-through.
Afternoon: We explored the characters' inner lives by having improv artist Kenny Raskin interview the actors as their characters. One of the most memorable moments was when Austin Archer, as Todd, said the coolest thing he had ever done was cut off a squirrel's head and throw it at some girls. April Fossen, as Tammy, had a very telling moment where she admitted she didn't like being a mother.
Day 2
Morning: We continued exploring the characters' inner lives through improv. Both April Fossen and Tony Campisi, as Tammy and Terry, improvised a sex talk with their respective sons, where Tammy addressed Timmy's erection and Terry addressed Todd's masterbation. Breann Taylor, who played Timmy, did an impressive job in this improv, considering she's never been a 10 year old boy or had an erection. Kenny Raskin also interviewed Breann as adult Timmy to understand more about his character, giving us great insight into his future, where, in her imagination, he goes onto community college and studies psychology, but distances himself from his mother and ends up marrying a woman who lets him be himself. There was also a great improv where Toni Byrd, as D'Loris, explores the interior life of a fed-up social worker. David Kranes interviewed Jon Tuttle, the playwright, asking about which characters he likes. The results: Likes: Todd, Tammy, D'Loris; Finds Interesting: Terry; Dislikes: Timmy; Represents himself: D'Loris.
Afternoon: Dance party with the characters & Tony Campisi picked the jams. Robin Wilks-Dunn, our director, taught us about Laban analysis and used it as a technique to help the actors explore the space. Charlotte Boye-Christensen, our choreographer, used movement to explore the moment where Terry serenades Tammy by singing the Commodores.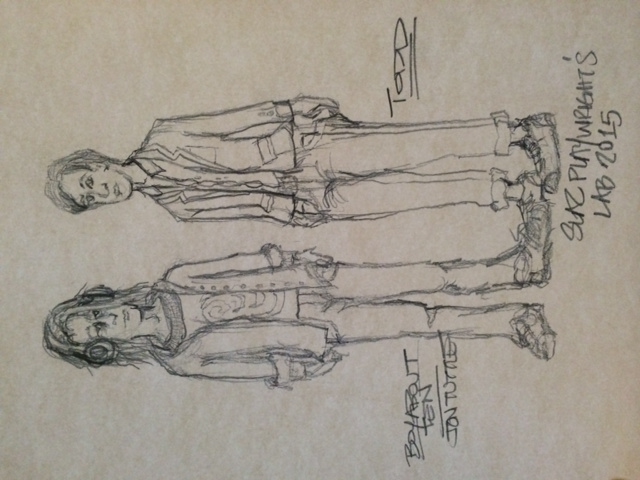 Day 3

Morning: Bill Harley, storyteller, and Martine Green-Rogers, dramaturg, helped us focus on the structure of the play. We had a great discussion of Act 2 and the climactic moment of the piece.
Afternoon: Shannon Robert, our set & costume designer, discussed her design concepts for Boy About Ten. We talked about Tammy's bejeweled eyepatch & projections that match the sound of the waves we hear in Todd's headphones. Shannon presents an amazing sketch of a set where the walls of the apartment could collapse as the story progresses. Throughout the rest of the week, she sketches a costume rendering for Todd's transformation and Tammy's costume. She also sketches another rendering that shows the set as a figment of Todd's mind and all the barriers he faces.
Day 4
Morning: Richard Rice, our musicologist, shared sounds related to the play. We listen to waves with the subtle creak of a boat, echoing Terry's suicide fantasy. We listen to animal sounds & explore scenes with only animal noises in place of the text. There was one memorable moment of this exercise where Tony Campisi and Breann Taylor recreated when Terry and Timmy summon the dead—Terry started howling like a wolf and Timmy copied adorably. We read-through Act 1 again and Jon made line changes as we read—one of the first times we started altering the script.
Afternoon: We started putting Act 2 on its feet and exploring characters through movement in the space. Todd doesn't have many lines in the play and this exploration of space was important to understand his character. Austin Archer, who plays Todd, came up with a crushing moment where he offers Cheerwine to help diffuse a situation and ends up being completely ignored.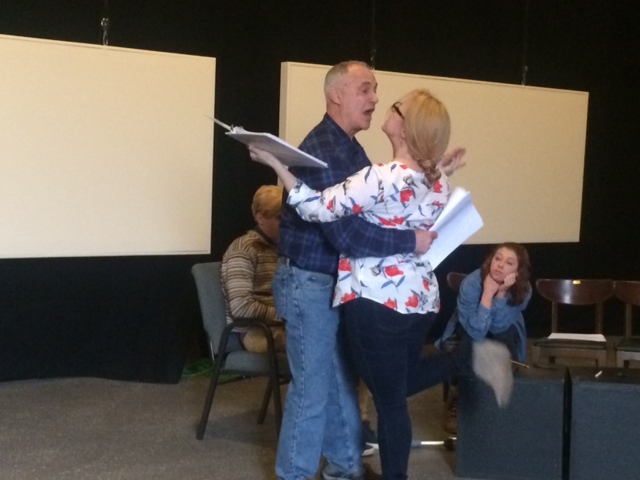 Day 5
Morning: We continued exploring Act 2 on its feet, again learning a lot about Todd's interior life. We get to the part where Terry staggers in and tries to win Tammy back through serenading her, all while their children look on.
Afternoon: Storytelling facilitated by Bill Harley. We shared the end of Act 2 and another scene with Tammy & Todd with the cast of Harbur Gate.