October 06, 2021
SLAC's tradition of bringing professional theatre to Utah families continues for a thirteenth year with Elephant & Piggie's "We Are in a Play!", based on the best-selling children's book series by Mo Willems. The production will mark a first for Salt Lake Acting Company: a professionally-filmed stage musical which will be offered exclusively to streaming audiences from December 26, 2021 through January 9, 2022. The musical is described as follows:
An elephant named Gerald and a pig named Piggie are best, best, "bestus" ("very best") friends, but Gerald worries that something could go wrong that would end their friendship. Piggie is not worried at all. She's even happier and more excited than usual. That's because she and Gerald are invited to a party hosted by the Squirrelles, three singing squirrels who love to have a good time. And so begins a day when anything is possible!
Cast & Creative
Comprising the cast of the Utah premiere of Elephant & Piggie's "We Are in a Play!" are Matthew Rudolph as Gerald the Elephant and Wendy Joseph as Piggie. They are joined by Madison Archibald, Talia Heiss, and Eva Merrill as the Squirelles. Joseph returns to SLAC after appearing in #SLACabaret and as part of SLAC's Understudy Program for Four Women Talking About the Man Under the Sheet. Rudolph and Merrill participated in the virtual reading of Daddy Issues in last season's New Play Sounding Series Festival. Archibald and Heiss make their respective SLAC debuts with this production.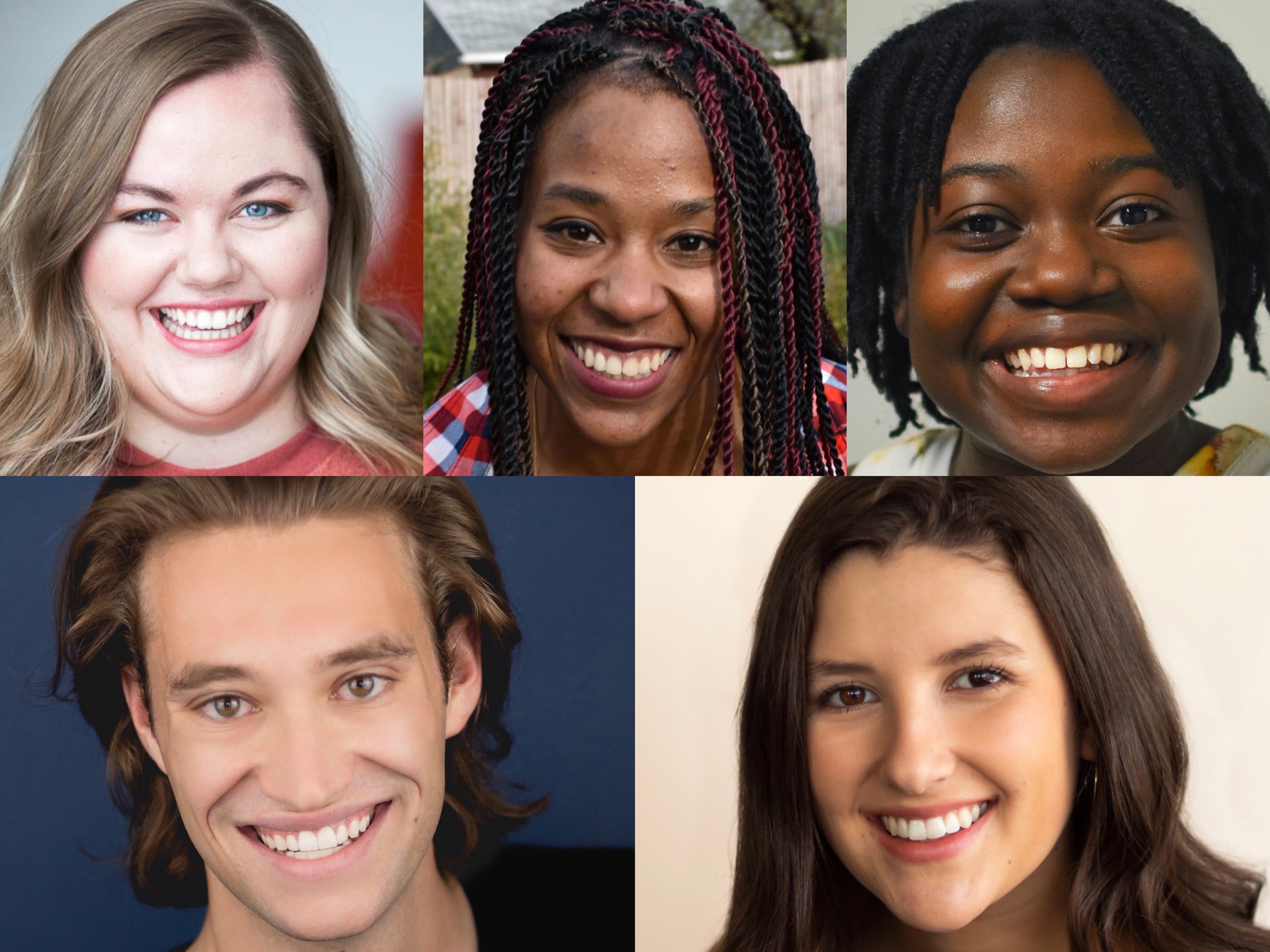 Clockwise from upper left: Madison Archibald, Talia Heiss, Wendy Joseph, Eva Merrill, and Matthew Rudolph
Penelope Caywood directs and choreographs Elephant & Piggie; this marks her eleventh Title I Arts Education production for SLAC. Caywood is joined on the creative team by Erik Reichert (props and scenic design), Aaron Swenson (costume design), and Jesse Portillo* (lighting design). Kenny Riches returns as the production's film director, having filmed both #SLACabaret and Four Women Talking About the Man Under the Sheet for SLAC Digital.
Now an Exclusively-Streaming Production
Due to the ongoing pandemic, and the current lack of availability of vaccines to children under 12, SLAC's leadership has determined that the most responsible means to present Elephant & Piggie's "We Are in a Play!" is through a professionally-filmed and edited version of the production. Once again working through a partnership with the David Ross Fetzer Foundation for Emerging Artists (aka The Davey Foundation), the production will stream exclusively on SLAC Digital from December 26, 2021 through January 9, 2022. Tickets, which will go on sale in mid-December, will be $10 per household for a 48-hour viewing window.
The production will also be available to educators, accompanied by SLAC's supplemental arts education curriculum, starting in January. Those interested in presenting Elephant & Piggie in the classroom should contact SLAC's Education Coordinator, Topher Rasmussen for more information.
Salt Lake Acting Company has plans to resume in-person performances for its children's production during the 2022 holiday season. For more information, please contact SLAC's box office at 801-363-7522 or .
---
*The lighting designer for Elephant & Piggie's "We Are in a Play!" is represented by United Scenic Artists Local USA 829 of the IATSE.
This play was commissioned by and first produced at the John F. Kennedy Center for the Performing Arts. ELEPHANT AND PIGGIE'S WE ARE IN A PLAY Is presented through special arrangement with Music Theatre International (MTI).All authorized performance materials are also supplied by MTI. www.MTIShows.com