Salt Lake Acting Company - slacabaret: down the rabbit hole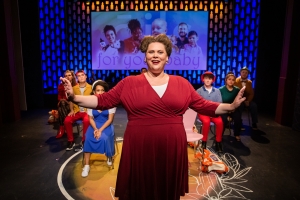 Summer fun returns to Salt Lake Acting Company with the second iteration of the theatre company's new summer production, SLACabaret. Written by Olivia Custodio, Emilio Casillas, and Michael Leavitt, the 2022 edition is titled SLACabaret: Down the Rabbit Hole and is described as follows:
When a group of Utahans come together for the annual essential oils convention downtown, they find themselves seeking a cure for their woes in all the wrong places. Join us for this modern day fairytale full of laughs and surprises.
Production photography by Todd Collins
CAST & CREATIVE
SLACabaret: Down the Rabbit Hole welcomes a multitude of SLAC veterans, as well as a few artists who are making their respective SLAC debuts. SLAC alum include Daisy Ali All* (form of a girl unknown) as Alice, Joseph Paul Branca (Pete the Cat) as Stryker, Kimi Handa Brown* (#SLACabaret 2021) as Marjorie, Sean Carter (The Overwhelming) and Tito Livas* (Mercury)—who share the role of Dorian, Kelsie Jepsen* (#SLACabaret 2021) as Debbie, Niki Rahimi (#SLACabaret 2021) as Trudy, Sarah Shippobotham (Tribes) as Abe, and Annette Wright (A Doll's House, Part 2) as Cheshire Cat.
Making their SLAC debuts are Aaron Linford Allred (Assassins, SLCC) as Matt, T Anthony (Something Rotten, Pioneer Theatre Company) as Holly, and Danny Borba (Aftershock, Plan B Theatre) as Ryker.
SLACabaret: Down the Rabbit Hole is directed and choreographed by Cynthia Fleming. Fleming is joined on the creative/production team by playwright Michael Leavitt (Musical Director), Gage Williams (Scenic Designer), Heidi Ortega (Costume Designer), Jesse Portillo** (Lighting Designer), Emily Chung (Sound Designer), Daniel Jacob Hill (Wig Designer), Erik Reichert (Props Designer/Construction Supervisor), Michael Francis (Projection Designer), Martine Kei Green-Rogers (Dramaturg), Kenny Riches (Film Director/Editor), Jorji Diaz Fadel (Assistant Choreographer), Lucy Urquhart and Ryeleigh McCready (Covid Safety Managers), and Dee-Dee Darby-Duffin (Assistant Stage Manager). Jennie Sant* is Production Stage Manager.
Serving as understudies, through the Understudy Program at SLAC, are Anne Louise Brings (Stupid F***ing Bird), Wendy Joseph (Elephant & Piggie's "We Are in a Play!"), and Caden Tudor (Hello, Dolly!, Pioneer Theatre Company). The onstage band includes SLACabaret: Down the Rabbit Hole author/musical director Michael Leavitt, as well as #SLACabaret 2021 alum Nick Fleming and Spencer Kellogg.
SLACabaret: Down the Rabbit Hole plays SLAC's Upstairs Theatre through August 21st. Tickets are now available by clicking the link above or by calling SLAC's Audience Relationship Team at 801-363-7522.

*Member of Actors' Equity Association, the Union of Professional Actors and Stage Managers in the United States
**The Lighting Designer for SLACabaret: Down the Rabbit Hole is represented by United Scenic Artists Local USA 829 of the IATSE.