Join
Tony Nominated
Broadway, Film and T.V. Actress
ALYSON REED
As the lovable-loopy drama teacher
Ms. Darbus from Disney's
High School Musical series
January 28-February 2, 2013
PROJECT OVERVIEW
Salt Lake Acting Company is thrilled to partner with actress Alyson Reed, the loveably loopy drama teacher Ms. Darbus in Disney''s HIGH SCHOOL MUSICAL series, to expand arts education in the very place HIGH SCHOOL MUSICAL filmed its series: Salt Lake City. As a new addition to our educational outreach programming, SLAC will bring Alyson to five Beverly Taylor Sorensen schools, including two Title I (higher poverty, frequently educationally disadvantaged) elementary schools, through a weeklong succession of free assemblies, serving over 3,000 students. Alyson will engage and empower students through the arts with five free educational and entertaining assemblies at various partnering Beverley Taylor Sorensen schools. In addition, she will host teachers'' workshops, as well as a master class for serious students of acting, and a family night at Clayton Middle School.
Active Learning Assemblies with Alyson Reed stem from thirteen years of successful K‒12 arts education programming with Partnering Artists Children Teachers (PACT), which has enriched over 800,000 students. Alyson Reed has over 40 years of professional experience as an actress, director and private coach in TV, film and theatre. Having worked with such luminaries as Hal Prince, Bob Fosse, Michael Bennett and Sir Richard Attenborough, her acting credits range from; a tony nomination during her 15 years on Broadway, to staring as Cassie in the film version of "A CHORUS LINE", to numerous guest stars, pilots and movies‒of‒the‒week, to her portrayal of Ms. Darbus in Disney's internationally acclaimed "HIGH SCHOOL MUSICAL" series.
"The overwhelming response to [HIGH SCHOOL MUSICAL] has been more than gratifying and fulfilling. Seeing such a heartfelt reaction to the arts becoming "cool" again, especially for children and tweens, has motivated and inspired me to launch "The Active Learning Series." Portraying a character that is highly relatable to kids, has given me an additional "in" and opportunity to work with children from every walk of life. Teaching has always been one of the greatest joys of mine. That magic moment when a child "gets it", is just that. ...MAGIC!"
‒Alyson Reed
With the support of teachers, principals, supervisors in Salt Lake County Schools we hope to bring that magic to our local students in Canyon Rim Elementary, Wasatch Assembly, Washington Elementary, Nibley Park Elementary, and Bennion Elementary, as well as invite all district students and their relatives to enjoy Family Night with Alyson at Clayton Middle School on January 31st.
"I can''t wait to see students who may not have many opportunities to learn theatre skills work with someone
who will get them excited about theatre and learning in general. We would be extremely honored to have guest
artist, Alyson Reed come work with our students. She is fun, enthusiastic, motivating, engaging, and would be a
great experience for all the students involved. It would be a memory that they would treasure all of their lives."
‒Rosanne Henderson‒Salt Lake School District Supervisor of Fine Arts

SLAC seeks to make a significant contribution to arts education programming by inspiring students through theatre games, workshops, warm-‐‑‒ups, a family night, musical assemblies, and a Q and A with a professional actor. Alyson''s theatre games and master classes do more than captivate students through fun activities, they encourage confidence‒building, focus on developing students'' self‒esteem, and show students the potential they have to express their creativity.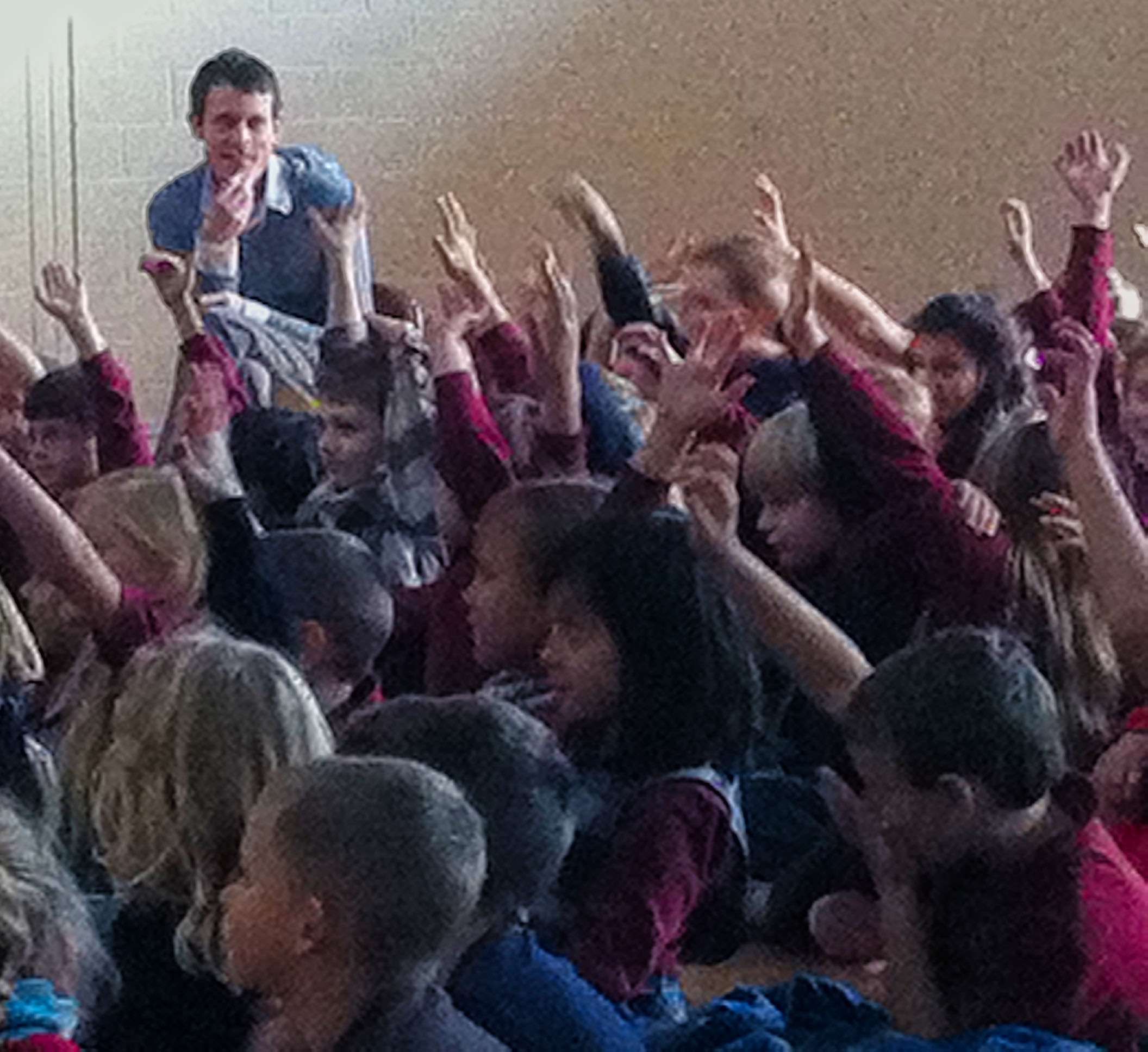 Salt Lake Acting Company is aligning with Beverly Taylor Sorensen''s advocacy for quality arts education. SLAC recognizes the lack of resources dedicated to arts education, and the lack of legislative funding for school-‐‑‒based arts programs, particularly in elementary schools. This community is invigorated and illuminated when bridges are built. The arts create connections between students of different cultures, religions, and economic backgrounds as they significantly increase learning in other subjects. The benefits fulfilled by enrichment in the arts spill over into families and the surrounding community to bring them closer together through development of persistence, teamwork, imagination and empathy.

At SLAC, we''ve seen that arts education programming gives children the space and encouragement to explore avenues of creativity they may not have known they possessed, through our annual children's production and free Title I Matinee Program. Students' responses to live theatre—inquisitive, energetic, delighted—are visceral and contagious, inspiring us to be advocates for arts education programming.
ALYSON'S BIO

Currently known as the loveably loopy drama teacher, Ms. Darbus, in Disney's HIGH SCHOOL MUSICAL series, ALYSON REED has over 42 years professional experience in television, film and theatre. Film audiences may remember her portrayals of Cassie in Sir Richard Attenborough's A CHORUS LINE, or John Ritter's longsuffering wife in Blake Edward's SKIN DEEP. As a performer, Ms. Reed made her Broadway debut in Bob Fosse's DANCIN', followed by: OH BROTHER! , DANCE A LITTLE CLOSER and MARILYN: AN AMERICAN FABLE for which she received a Drama Desk Nomination for Best Actress for her performance as Marilyn Monroe. She won both Tony and Helen Hayes Award Nominations for her portrayal of Sally Bowles, opposite Joel Grey, in Hal Prince's revival of CABARET. Also in New York, she starred in Radio City Music Hall's GOTTA GET AWAY, the Roundabout's A GRAND NIGHT FOR SINGING and can also be heard on the cast album. Other cast albums include OH BROTHER! and DO I HEAR A WALTZ?, as Leona, for Pasadena Playhouse. Including numerous regional credits, nationally she has been seen as Catherine in PIPPIN, Cassie/Val in A CHORUS LINE and Joanne Galloway in A FEW GOOD MEN. Numerous television credits range from MAD MEN, DESP. HOUSEWIVES, CSI, LAW AND ORDER; to NIP/TUCK, THE MENTALIST and THE GEORGE LOPEZ SHOW... to every other guest spot, pilot and movie-of-the-week ever written! Other big screen performances include Steve Martin's SHOP GIRL and MANHATTAN MERENGUE. As a Director/Choreographer, Ms. Reed's productions of SHIRLEY VALENTINE at Repertory Theatre of St. Louis, TANGENTS at George Street Playhouse (a world premiere play which she also co-produced) and A GRAND NIGHT FOR SINGING at North Shore Music Theatre have all enjoyed sold out runs. In Los Angeles, she directed the highly acclaimed original piece SEND CHOCOLATE AND MARLBOROS, Davis Gaines and John Raitt in BROADWAY'S LEADING MEN and a World Aids Day benefit, WHEN CASTS COLLIDE; starring the casts of RENT, RAGTIME and PHANTOM OF THE OPERA at the Shubert Theatre. Receiving Hawaii's "Tony Award" for best director for her production of OLIVER, during past seasons she directed and choreographed A GRAND NIGHT FOR SINGING and SWINGTIME CANTEEN for McCoy/Rigby in La Mirada. She has also directed numerous staged readings and workshops including RAIN at Circle in the Square and HOW I SPENT MY LIFE'S VACATION at Musical Theatre Works in New York, as well as a pilot presentation at The Groundlings in Los Angeles.
January 28-February 2, 2013
Monday, January 28
Assemblies:
Canyon Rim Elementary – morning
Washington Elementary – afternoon
Tuesday, January 29
Assembly:
Nibley Park School – morning
Teacher Workshop:
Board of Education building – 4-6pm
Wednesday, January 30
Assemblies:
Wasatch Elementary – morning
Bennion Elementary – afternoon
Thursday, January 31
Family Night: 6:30pm
Clayton Middle School
Ticketed event - $5 per person –
Participants encouraged to contribute to the Salt Lake Education Foundation
Saturday, February 2
Actor's Workshop:
Salt Lake Acting Company
$25 per person