"Cows that type?! Impossible!" That's what I thought when I was first cast in the show in August. Now I can firmly tell you, not only can cows type, but they can tap dance, sing in harmony, stage a peaceful uprising, and be some of the best folks to work with!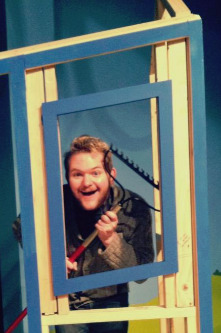 This has been one of the best processes I have ever been a part of. Everyone in the cast and creative team is an absolute gem to work with. Our director Penny Caywood has made this an unforgettable journey. Her choreography and direction have made the show not only fun for children, but also incredibly entertaining for adults. Her passion for theatre and especially Theatre for Young Audiences has brought a spark to this show, and me personally, that I never could have imagined.
I have always been an advocate of the arts and felt that teaching children to appreciate and understand them is vital to a thriving and expressive society. Working with Penny and the cast on this project has deepened that belief ten-fold.
Honestly, I don't remember the first play I saw, theatre has just always been a part of my life as far back as I can remember. I do know that somewhere in my early childhood I saw something that struck a chord within me that changed my life for the better. Having the opportunity to share a 'first theatrical experience' with so many children is awesome: seeing their eyes light up as a sandy beach turns into a pirate ship, hearing them clap as loud as they can when Peter Pan begs for children to help save Tinkerbell's life, or simply watching a little girl with all honesty ask a woman dressed as cow, "why exactly do cows need electric blankets?".
If you don't have your tickets yet, get them! You really don't want to miss this show. The cast is incredible. The direction and designs are great. And when else will you see cows that type and tap dance?