"I'm happily accept!" That was my response to Keven Myhre when he called to offer me a role in this year's Saturday's Voyeur. I was dead asleep when Keven called and I was so excited, and surprised that I put on my best "I'm awake voice" and my response was, "I'm happily accept!" It was one of those phone calls that after you get off the phone and you ask yourself, 'Did that phone call actually happen? Was I dreaming the last 5 minutes of that conversation? Oh God I hope I didn't say anything stupid…besides I'm happily accept." It took me till our first read-through of Voyeur to realize, 'Okay, that phone call was real and here I am.'
I cannot believe that it's already the beginning of August. Voyeur has been such an amazing roller coaster ride. Along the way I have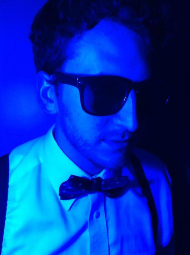 had the privilege of getting to know, and working with such an amazing group of artists on this year's Voyeur. Everyone in the cast and on the creative team has been a joy to work with.
The two characters that I play are Brother Fey: a closeted gay man who is working for the Church Office Building. We get to see his discovery of himself and his role as a gay man who is Mormon. The second character I play is Mitt Romney. This has been a great challenge for me to play someone who is a real person that is a very hot topic right now, but also staying true to the Voyeur style as well as putting my own spin on him. There have been actors before me that have played Mitt in past Voyeurs, but I wanted to make him my own. I've had a lot of fun discovering who both of these characters are, and what both of their roles are in the play.
This summer has been so much fun and there is still much more to look forward to. Performing for the Voyeur crowd is unlike anything I've ever experienced before. It's a good feeling to be in a room with 200 other people who are there to laugh, have a good time, and throw back a Jell-O shot or two. If you're reading this and you haven't got your tickets yet then do so NOW!!! Come see the show, get 'Mitt-Faced', laugh, and have a great time.
For tickets call our box office at 801.363.7522 or visit www.saltlakeactingcompany.org.